How long will my neon take to make?
---
Our production is typically 7-10 business days. We don't work weekends because we love our job and want to keep it that way!
---
Do you take rush orders?
---
Yes! We do take rush orders but of course restrictions do apply. For any orders placed with shorter turn around time then 7-10 business days will incur a rush fee starting at $50 ( A small price to pay for waiting last minute! )
---
Do you ship?
---
Yes! We provide guaranteed break free shipping through UPS Ground service to 48 states. Standard turn around time for shipping to West Coast is 1-3 days and East Coast is 4-5 days ontop of production times.* Prices are as follows: Size A (13" x 32" x 3")…..$65 Size B (20" x 37" x 3") ….$80 Size C (24" x 31" x 3")…..$80 Size D (24" x 24" x 3")…..$80 Size E (13" x 37" x 3")…..$80 Larger than our standard sizes may require freight shipping which begins at $185 + and $45 extra for residential address. *We are not responible for unexpected weather delays or mishandling after product is delivered. Prices of shipping may change
---
Is there warranty on your products?
---
Yes! All of our signs come up to 1- year of warranty on electrical components.** Our warranty covers only electrical components and we will gladly exchange parts within 1 year of receipt. The warranty will be fulfilled through exchange via UPS or other preferred shipping methods. We will not come out to deliver warranty replacements. Please contact us at sales@bestbuyneonsigns.com for processing. **Some restrictions may apply. The transformers or sign may not be altered in anyway for warranty to remain valid.
---
How can I hang my neon sign?
---
How to display your sign will depend on your backing. To hang your neon, use chains included which are aprox 12-18" long. To mount, use screws or nails where the pre drilled holes are in the acrylic. For neon and parts with no acrylic backing, direct to wall installation, please call your local electrician* to help you install or ask us for a quote. * The National Electrical Code does not recommend DIY without proper experience. If you are certified and need further instructions please see our video below: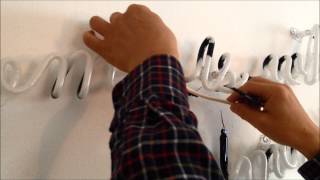 ---
Do you install?
---
Yes we install only for the greater Los Angeles area. For indoor signs, installation rates begin at $350. For outdoor signs, instllation rates begin at $400. For an installation quote, send us a picture of the wall, location address along with specification of your installation site, such as; concrete wall, hedge of cannabis leaves (yes, we've actually done this), or by a stair case. Our installations include: Experienced handling of neon glass installations directly on walls without backing, electrical handling and wire management against walls, not inside. Does not include: Placing wires inside of walls or extension cords.
---
Returns or Refunds
---
All custom signs are created especially for you and are final sale. You may have once loved your cat's name in neon, but others may not be as tickled, hence we would have a room filled of unsellable signs if we accepted custom returns.
---
Do you offer repairs?
---
We do offer repair services for our own local existing customers. Please be aware there are occasions when replacing the whole neon is a more cost effective procedure then making small changes to your existing sign.
---
I am a signbender, will you repersent me?
---
Hey there, we would love to hear from you. Email us un the general contact form here.
---
---